Fan Opinion: Virgil van Dijk is right in suggesting that the core of Liverpool stars are yet to reach their potential
Liverpool opinion: Liverpool stars are yet to hit their peak and that is great news
It has been a crazy couple of days in the Champions League, especially for Liverpool.
Not many handed the Reds a chance of defeating Barcelona after the first leg of the semi-final ended 3-0 but here we are, ready for another Champions League final.
The Reds were hungrier, determined and willing to do that little extra on the night, and it paid dividends as Divock Origi's opener set the tone for the win.
Nearly every player played out a perfect game for the Reds and now we face Tottenham in the final on 1 June.
Our rivals also had a great comeback against Ajax, and it is going to be an incredible tie at the Wanda Metropolitano.
Miracles have been plentiful in Liverpool's campaign this season and we need one more to take place on Sunday.
Brighton host Manchester City and need to avoid defeat against the Cityzens to give us a chance of lifting the title.
The Reds have to defeat Wolverhampton Wanderers at Anfield on Sunday, and Virgil van Dijk believes anything can take place for the Reds (h/t Liverpool Echo):
"We'll see what's going to happen in Brighton. If it happens, it happens, we have no influence on that. Anything is still possible."
The Dutch defender was excellent against Lionel Messi and co. and lauded the team's performance this season.
Van Dijk wasn't worried about missing out on the title and claimed the group of players will only get better in the coming years:
"We have a great age group. Between 20 and 27, 28, so hopefully we can do it altogether for the next couple of years at least and grow as a team and hopefully get a lot of success."
Reds on the right track

Jurgen Klopp has been an incredible signing for us after the tenure of Brendan Rodgers. The German has transformed the club, and this season proves we can give any team a run for their money.
City are just one point ahead of us in the table, and we have more than a chance of winning the Champions League as we should be favourites for that trophy.
That seemed like an impossible scenario when the German took over.
We were never close to the top four, barring that one miraculous season by Rodgers. Now, we have qualified for the Champion League for a third successive time.
The team that Klopp has built has been nothing short of special. Smart signings and sales have made this squad possibly the best we have ever had in Premier League history and the great thing (and scary for the opposition) is that most of our players are yet to hit their potential.
Young and hungry for success
The Champions League defeat last season was hard to take. We gave Real Madrid more than a fight, even without Mohamed Salah, but a couple of mistakes handed the crown to the Spanish giants.
The Reds have been mentality monsters this season, despite Manchester City doing their bit. It has been incredible to see a team so young push City to the absolute limit.
Liverpool have lost just one Premier League game this season, and have been fantastic in the knockout rounds of the Champions League.
Looking through the team, only Daniel Sturridge, Simon Mignolet, Adam Lallana, James Milner and Dejan Lovren are above the age of 29.
From those players, only Milner and Lovren have featured regularly this season. The rest of the side is below the age of 28, and have at least 3 years left at the top of the game.
Drilling down further, Roberto Firmino, Sadio Mane and Mohamed Salah are 27 or younger. The reinvigorated Divock Origi is 24 and Rhian Brewster is 19.
Jordan Henderson and Georginio Wijnaldum are 28, while Fabinho, Naby Keita and Alex Oxlade-Chamberlain are 25 or younger.
Our defence is littered with young talent too with Joe Gomez, Andy Robertson and Trent Alexander-Arnold being below 21.
Virgil van Dijk is 27, and has several years at the top, while Alisson is just 26.
Liverpool can only improve in the coming years if the crop of players remain and we make small additions to the side.
The Reds can create history by 1 June with the Premier League and Champions League beckoning, but even if neither trophy comes home, we are in a great position to battle for top honours for a few years.
"You deserve it", "Music to my ears" – Several Liverpool fans pleased as key Reds star pens new contract extension
Joel Matip signs new contract to extend stay at Liverpool
Liverpool confirmed that Joel Matip was the latest start to sign a new deal with the Premier League leaders.
The Cameroon defender joined from Schalke on a free transfer in 2016 and has been excellent over the past 12 months.
The 28-year-old has been consistent alongside Virgil van Dijk and has helped us become one of the best defences in Europe.
The centre-back missed our last two games but was happy committing his future to the club (h/t LiverpoolFC.com):
"It's a great feeling to be a longer part of the club. It's really just a great feeling."
Matip added that the Reds had a young team and are ready to win more trophies after landing the Champions League last season.
Back for the United game
The release from the club added that Matip should be ready to face Manchester United on Sunday, and we do need him.
Our defence hasn't been all that tight this season, with Joe Gomez and Dejan Lovren playing alongside Van Dijk in recent games.
Matip will provide us with more assurance at the back, and we should be the favourites for the clash at Old Trafford.
The Cameroon star has turned things around at Anfield and has replaced Dejan Lovren as the partner for Van Dijk.
Gomez was the partner for the Dutchman last season, and Matip didn't let the opportunity slip when the English defender was out due to a fracture.
Sadio Mane, Mohamed Salah, Andy Robertson and Roberto Firmino are some of the stars who have penned new deals in recent months at Anfield.
Many of our supporters were pleased at this news and here are some of the reactions from Twitter.
More Liverpool News
Why copying Liverpool's defence strategy is difficult for Manchester United or any other side – opinion
Why United's move for Harry Maguire was always destined to fail
Virgil van Dijk was the most expensive defender in the world and well, he did turn our fortunes around with some impressive performances.
From a leaky defence, we became the tightest unit last season, and that was the base for a fantastic campaign. The Reds were struggling at the back and landing Van Dijk worked out quite well, something which Manchester United did this summer.
The Red Devils splashed £80million on Harry Maguire to make him the most expensive defender in the world (h/t Express), however, things just haven't worked out for them.
Michael Owen claimed that the move had failed since United didn't have the same "calibre" of players as the Reds did (h/t Express). Maguire might be the most expensive defender in the world, but this move was always going to fail.
It isn't only about the players at Liverpool
The Reds didn't have the greatest set of defenders before Van Dijk's arrival and his leadership qualities certainly have helped us at the back.
Things do look calmer here, but United also signed a quality right-back in Aaron Wan-Bissaka in the summer. They had decent options for the other spots while David de Gea is regarded as one of the best keepers in the world.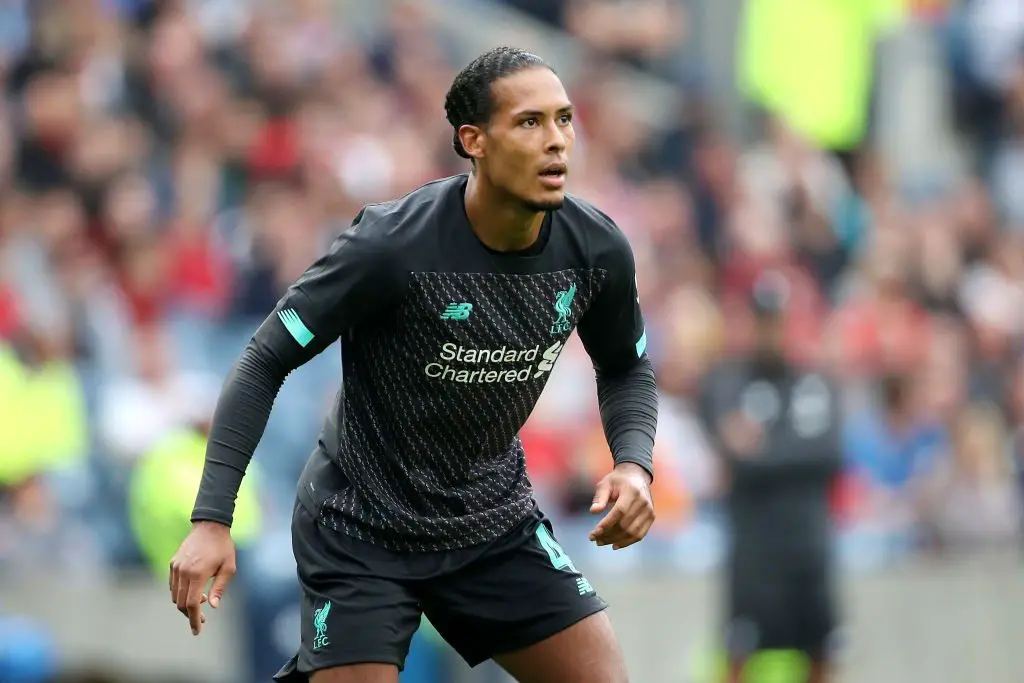 So why hasn't it worked for them? And in all probability, it won't work for others too.
It all goes down to the manager and the coaches we have. Take Van Dijk out of the defence and we have Joel Matip, Dejan Lovren and Joe Gomez as his partners.
Each defender has grown leaps and bounds under Klopp. Gomez was possibly the best centre-back last season before he picked up that fracture.
Matip came into his own during the second half of the previous campaign while Lovren was excellent in the 2-1 win over Leicester City.
Our full-backs have been fine-tuned to fit into this system and they are possibly the best in the league.
Andy Robertson came from Hull City and took time to adjust to Jurgen Klopp's demands. Trent Alexander-Arnold took time to become one of the most consistent right-backs in the league, and the pair is excellent when going into the attack.
It is true that our defence didn't look that great when Van Dijk wasn't around but the people behind the scenes also deserve credit for fixing things at the back.
Our entire system works together in getting the best out of the players and that is something which is not in place at most clubs.
Ole Gunnar Solskjaer doesn't have top–level experience and even after splashing big on Maguire, they still have a lot of work.
More Liverpool News
Liverpool, on the other hand, have been excellent in their transfers over the years and our players are improving with each season under Klopp and co.
Klopp doesn't confirm if these 3 important Liverpool stars will face Manchester United
Jurgen Klopp to take call on three players ahead of Manchester United clash
Jurgen Klopp was in a boisterous mood ahead of our clash against Manchester United on Sunday.
The German participated in his pre-match press conference and spoke on several topics.
The manager also provided an update on three players returning from injury.
Joel Matip, Alisson and Mohamed Salah all carried knocks going into the international break, and Klopp claimed he would check on the trio before making a decision at the weekend:
Liverpool need to be at their best
Adrian has done a wonderful job in place of Alisson, but the Brazilian's return would be a boost for us.
Salah is one of the best in the world while Matip could be the most important player to return. The Cameroon defender improves our defence and has been excellent alongside Virgil van Dijk.
We need to be at our strongest when facing Manchester United, and Matip will be important for us. Joe Gomez struggled this season and he is a little rusty after returning from an injury last season.
More Liverpool News
Dejan Lovren did well against Leicester City but Matip should be ahead in the pecking order. Salah also needs to have a great game, and it will be interesting to see how Liverpool do against our biggest rivals on Sunday.