Liverpool Need to Build a Legacy
Yes, we know it will be 30 years since Liverpool last won the league. We also know they trail Manchester United by two titles. Those are both very worthy and realistic targets—ones that will reset the footballing balance, remove a couple of monkeys from the backs of fans and players alike, and make the less-noisy neighbours up the M62 even more subdued. However, they are both short-term goals—small beer compared to what Liverpool's sights should be set on.
A Change in Mentality
For Liverpool it should not just be about winning the title and banishing all those years of frustration. It needs to be about building a legacy—about stamping their authority on an era or decade like so many of the clubs have done in the past. It is a sign of how far the club has come that we are in November and they are level pegging with Barcelona in the bookies' minds to retain the biggest cup competition in club football.
It is that expectancy—in the shape of fear, jealousy and a benchmark to strive for in the eyes of rival clubs (and belief and self-assuredness for the team in question)—that makes all the difference. Last May we pointed out the slight shifting of the guard, with Jurgen Klopp's men going into a major final as favourites. The German has put in place a mental steeliness over the last 18 months to two years, so it should not be a surprise that they were able to deal with the added pressure that comes with it. It is easy to build team spirit under the mantle of the underdog, where it is you against the world. That only gets you so far, and if successful, that mentality needs to transition to that of a team and a set of individuals who feel they deserve success—and that there is no one out there who will strip them of it.
Lay Claim to an Era
Reaching that level, achieving that mentality and reputation, and then (most importantly) going out onto the pitch and living up to and justifying it, is the next step and the one that Liverpool now need to make. Over the decades at the highest level of English football, there have been eras that have been dominated by one team. In the last decade of the 19th century, Sunderland won three titles and came in second in a four-season period. In the mid-1920's Huddersfield won back-to-back-to back titles, followed by successive runners-up places. A decade later Arsenal won the title five times in six seasons, finishing second in the one they missed out on.
Fast forward to the next period when one team could really lay claim to being the dominant force in domestic football, and we find ourselves in the mid 1970's—and that team, of course, was Liverpool. Not that anyone on here needs reminding, but it is good to just lay down the type of success one team is capable of. Between the 1972-1973 and the 1990-1991 seasons, Liverpool lifted the title eleven times, coming second seven times and finishing outside the top two just once in that period. And that is not even taking into account cup success—both domestic and European. Since then Manchester United under Fergusson—and to a lesser extent Wenger's Arsenal and Mourinho's Chelsea—have established themselves for at least a short period of time as the country's number one club.
Make no mistake—ruling for a decade or more is precisely what Manchester City would have been hoping for. Three in a row would certainly be a start, but their heads are being turned by the carrot of European glory. Klopp always said it was a long-term journey. He has built something fantastic—something all Reds fans have been dreaming of for decades. But even if they win their first Premier League title in May, that should just be the start of the next journey—one that will see them go down in history for years, decades and centuries to come, as opposed to just claiming bragging rights with an old enemy.
Dutch attacker linked with Liverpool to be handed new deal by Ligue 1 giants
Lyon to offer Liverpool-linked Memphis Depay a new contract
Memphis Depay has done a great job at Lyon since joining them from Manchester United.
The 25-year-old has scored consistently for the Ligue 1 giants and is a permanent fixture in the Dutch national team too.
Depay has turned his career around after his struggles at Manchester United. He was signed from PSV Eindhoven but left after failing to make a mark at Old Trafford.
An older and more experienced Depay seems to be at his best and the 25-year-old has been linked with Liverpool (h/t Express).
Tottenham and United are also keen on the 25-year-old, however, Lyon are set to offer him a new deal (h/t Express).
The club's president Jean Michel Aulas confirmed to BeIN Sports a new contract was one the way. However, Aulas added that Depay was still to make a decision on signing it (h/t Express):
"We will make him a contract extension offer because he is an exceptional player.

"He will be the one who will ultimately decide. He is a sweet boy, an interesting man."
Do Liverpool need more attackers?
The Reds are in a great position in the Premier League and could do with another quality attacker coming in.
Mohamed Salah has had his injury problems this season while we would need to rest players due to our packed schedule.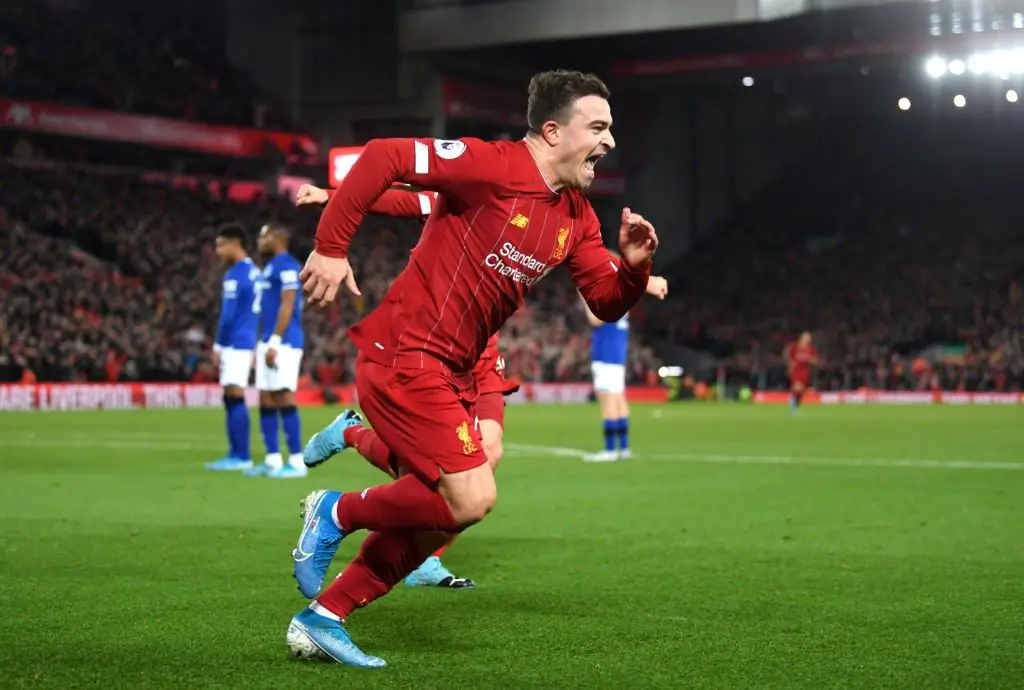 However,Divock Origi and Xherdan Shaqiri were brought back in the team to face Everton. The pair were excellent in the 5-2 win with both getting on the score sheet.
Shaqiri could be the difference-maker for the remainder of the season. If the Swiss performs at his best we might not need to think of making any signings in January.
More Liverpool News
Shaq has been out of action for most of the campaign with an injury. However, he was exceptional against the Toffees last night.
"Celebration with the GOAT" – Some Liverpool stars react to 5-2 win over Everton on Twitter
How the Liverpool stars reacted to incredible 5-2 derby win over Everton
Liverpool kept their eight-point lead at the top of the Premier League with a dominant display over Everton.
The Merseyside derby is never easy to predict and with Everton doing well against Leicester, this could have been a game where we could have dropped points.
Jurgen Klopp's team selection also raised some eyebrows with Adam Lallana, Xherdan Shaqiri and Divock Origi starting.
There was no place in the starting XI for Roberto Firmino, Jordan Henderson and Mohamed Salah. However, that didn't matter for us with Origi opening the scoring early on.
Shaqiri made it two thanks to the second assist of the game from Sadio Mane, but our defensive issues continued.
Michael Keane pulled a goal back but we raced into a 4-2 thanks to goals from Mane and Origi.
Everton pulled one back from Richarlison on the cusp of half-time but Georginio Wijnaldum sealed the win by scoring in the dying moments of the game.
Origi stars for Liverpool again
Origi might not have played too many games for us this season but he did a great job once again.
The Belgian should have scored a hat-trick in this game but Mane could have done the same too.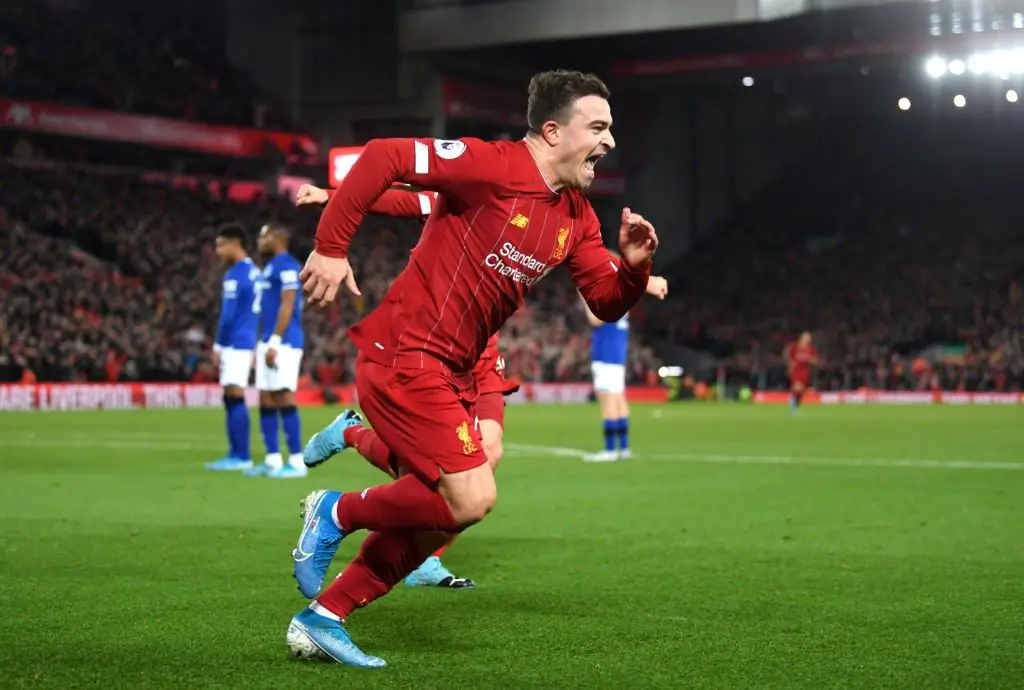 It was a great performance all-around with Shaqiri and Lallana also impressing. The Swiss star tried many tricks and flicks and most of them came off.
Lallana played in an advanced role and did well too, which should be great for Jurgen Klopp. The German has to mix his team around in the coming weeks and it is fantastic that most of our squad players are also on form.
Many Liverpool players were pleased with the win and some of them even called out Origi as the GOAT.
More Liverpool News
The next game for Liverpool is an away trip to Bournemouth, and after that, comes the huge Champions League clash at RB Salzburg.
"It is healing but not how we wished" – Klopp confirms further time out for injured Liverpool star
Jurgen Klopp confirms Joel Matip's injury isn't healing as it was expected to
Jurgen Klopp provided an update on Joel Matip's injury ahead of the clash against Everton.
The centre-back hasn't featured for us since the 1-1 draw against Manchester United and won't play in the Merseyside derby too.
Matip was our best defender alongside Virgil van Dijk but has been out due to a knee injury.
Klopp claimed that Matip needs more time to recover but admitting the injury wasn't healing as expected (h/t Liverpool Echo):
"Joel needs a bit more time.

"It is healing but not exactly how we wished for so he needs a bit more time and that will take a while. The others are fit and available."
Joe Gomez has also struggled for consistency this season and has often been brought off the bench to replace Trent Alexander-Arnold late in games.
Matip had been excellent since last season and helped us win the Champions League too. It will be interesting to see when he returns for the Reds, but we have a packed schedule coming up.
Lovren starring for Liverpool
Matip's absence should keep Dejan Lovren in the first-team. The Croatian has done a decent job this season alongside Virgil van Dijk.
It will be interesting to see how Klopp rotates the side given that Liverpool play almost every three days for the next two months.
More Liverpool News
Liverpool play Bournemouth after the derby and then travel to Austria for a huge Champions League encounter.