Liverpool Need to Build a Legacy
Yes, we know it will be 30 years since Liverpool last won the league. We also know they trail Manchester United by two titles. Those are both very worthy and realistic targets—ones that will reset the footballing balance, remove a couple of monkeys from the backs of fans and players alike, and make the less-noisy neighbours up the M62 even more subdued. However, they are both short-term goals—small beer compared to what Liverpool's sights should be set on.
A Change in Mentality
For Liverpool it should not just be about winning the title and banishing all those years of frustration. It needs to be about building a legacy—about stamping their authority on an era or decade like so many of the clubs have done in the past. It is a sign of how far the club has come that we are in November and they are level pegging with Barcelona in the bookies' minds to retain the biggest cup competition in club football.
It is that expectancy—in the shape of fear, jealousy and a benchmark to strive for in the eyes of rival clubs (and belief and self-assuredness for the team in question)—that makes all the difference. Last May we pointed out the slight shifting of the guard, with Jurgen Klopp's men going into a major final as favourites. The German has put in place a mental steeliness over the last 18 months to two years, so it should not be a surprise that they were able to deal with the added pressure that comes with it. It is easy to build team spirit under the mantle of the underdog, where it is you against the world. That only gets you so far, and if successful, that mentality needs to transition to that of a team and a set of individuals who feel they deserve success—and that there is no one out there who will strip them of it.
Lay Claim to an Era
Reaching that level, achieving that mentality and reputation, and then (most importantly) going out onto the pitch and living up to and justifying it, is the next step and the one that Liverpool now need to make. Over the decades at the highest level of English football, there have been eras that have been dominated by one team. In the last decade of the 19th century, Sunderland won three titles and came in second in a four-season period. In the mid-1920's Huddersfield won back-to-back-to back titles, followed by successive runners-up places. A decade later Arsenal won the title five times in six seasons, finishing second in the one they missed out on.
Fast forward to the next period when one team could really lay claim to being the dominant force in domestic football, and we find ourselves in the mid 1970's—and that team, of course, was Liverpool. Not that anyone on here needs reminding, but it is good to just lay down the type of success one team is capable of. Between the 1972-1973 and the 1990-1991 seasons, Liverpool lifted the title eleven times, coming second seven times and finishing outside the top two just once in that period. And that is not even taking into account cup success—both domestic and European. Since then Manchester United under Fergusson—and to a lesser extent Wenger's Arsenal and Mourinho's Chelsea—have established themselves for at least a short period of time as the country's number one club.
Make no mistake—ruling for a decade or more is precisely what Manchester City would have been hoping for. Three in a row would certainly be a start, but their heads are being turned by the carrot of European glory. Klopp always said it was a long-term journey. He has built something fantastic—something all Reds fans have been dreaming of for decades. But even if they win their first Premier League title in May, that should just be the start of the next journey—one that will see them go down in history for years, decades and centuries to come, as opposed to just claiming bragging rights with an old enemy.
How Mo salah compares to the worlds top 20 earners
For much of 2017, 2018, and 2019, it's been fair to say that the attacking trio of Liverpool FC is among the best in the world. Their attack has often been lauded as the most fluent and functional attack in the world game, with Roberto Firmino the front of the three-pronged attack. On his sides are Sadio Mane and Mohamed Salah. However, would you be shocked to find out that you could trade the wages of Neymar Jr, and pay Mane, Firmino, and Salah? And still have some money left over?
Neymar is on around $105m/year at the moment according to the sports betting site Findbettingsites.co.uk. Despite being happy to take a wage drop to go back to FC Barcelona, the move failed and instead he remained in Paris. His wage is a whopping $80m ahead of Salah himself, who manages to pull in $25.1m per year. To contrast, Gareth Bale and Antoine Griezmann are both expected to earn more, with the duo earning around $27.1m a year based on reports. With bookmakers sponsoring a large number of Premiership and Champions League teams its no surprise they can afford to spend such obscene amounts of money.
In the Premier League, though, only Mesut Ozil of Arsenal ($30.2m) and Paul Pogba of Manchester United ($33m) earns more than Salah. In total he ranks as the 12th highest paid player in the world at present. Premier League former stalwart Alexis Sanchez is on the list, though he now plays in Italy with Internazionale.
The Egyptian, though, is currently the highest paid player at Liverpool. It's estimated that Virgil van Dijk, Sadio Mane, and Allison Becker are all close to his wage. In the list of the top 20 earners in world football, though, Salah is the only Liverpool player to be listed.
Who else earns close to what Salah brings in?
On the list provided, the next player after Salah is Angel di Maria. The Argentina on around $23.7m per year is the fourth player to be from Paris Saint-Germain on this list – they are the team with the most members on the list. Another surprise, though, is that two players from China alone – Graziano Pelle and Oscar – are both on the list. Oscar actually earns more than Salah, showing the disparity in earning potential in Asia versus Europe for players willing to move.
The lowest paid player on the list is that of Gerard Pique, who has to make do on a "paltry" $21.7m. Outside of Salah, the only other Premier League player to appear on this list is that of Manchester City striker Sergio Aguero.
The Argentina striker earns around $22.6m and is the only player to take part in the English top flight. On the list, you notice an immediate collection of nationalities who are among the highest earners: Brazil, France, and Spain. Given all three are among the most successful international teams in history, that should come as little surprise.
For Salah, though, he flies the flag for other African players who are looking to make a name for themselves. Without doubt, he's an icon and an inspiration for many in the African game and beyond.
"Ended his career"- Some Liverpool fans react to this star dominating Man Utd ace
Twitter reacts to Roberto Firmino turning Wan Bissaka inside out
Liverpool striker Roberto Firmino is no stranger to the highlight reels. The Brazilian has had conjured numerous moments of magic in a Red shirt that have been part of countless highlight reels.
Early in the second half of the match against Manchester United, the Liverpool striker turned United full-back Aaron Wan-Bissake inside out ending with the defender landing flat on the Anfield turf.
Picking up the ball on the left, Firmino ran at Wan-Bissaka and cut across the defender numerous times completely flatfooted him.
Wan Bissaka is considered by some to be the best defensive right-back in the league and has also been compared by United fans to Liverpool's Trent Alexander-Arnold.
The Reds faithful would have enjoyed Firmino showing the world that the United defender still has some ways to go before being compared to Liverpool's wonderkid.
The move coincided with a sustained period of dominance where Liverpool had 7 chances in the opening 9 minutes of the second half.
Virgil van Dijk gave Liverpool the lead in the first half with a towering header from a Trent Alexander-Arnold corner. Firmino looked to have doubled the Red's lead only for the goal to be controversially ruled out for a Van Dijk foul on David de Gea.
Giorginio Wijnaldum had the ball in the back of the net after a fine passing move,but the goal was once again ruled out for offside.
Twitter reacts to Firmino's skill against Wan-Bissaka
More Liverpool News
Jurgen Klopp will not sell any first-team players this January
Liverpool enquire about 'the new Andrea Pirlo' Sandro Tonali
Liverpool to recall striker Taiwo Awoniyi from Mainz loan
Loan watch: Find out how the young Liverpool starlets are faring
Loan Watch: Find out how the Liverpool loanees fared this week
With the first-team squad setting higher standards with every match, some of Liverpool 's promising talents have had to go out on loan to get more playtime to further their development.
We take a look at how these players fared this week
Rhian Brewster (Swansea City)
It was a home debut to remember for Rhian Brewster as the youngster scored his first senior goal in Swansea City's 2-1 victory over Wigan Athletic. (h/t Sky Sports)
Nathan Byrne had given Wigan lead, only for Brewster to bring the Swans level with a clinical finish at the 19th-minute mark.
Swansea ended up winning the game 2-1 courtesy of an Andrew Ayew goal in the second half. It has been a promising start for Brewster at the Liberty Stadium and is hopefully just the start of bigger things to come.
The Swans are currently 6th in the Championship table and look set to at least make the playoffs for Premier League promotion.
Sheyi Ojo (Rangers)
The 22-year-old winger came on as a second-half substitute as Rangers defeated Stranraer 2-0 in the Scottish Cup at Ibrox. The youngster played the last quarter of the game as Steven Gerrard's side go through to the 5th round where they will face Hamilton Academical.
Ojo has made 22 appearances for Rangers this season and has scored 2 goals. (h/t Whoscored)
Harry Wilson ( Bournemouth)
It was a frustrating night for the Welsh winger as he was sacrificed for Simon Wallis in the 34th minute. The substitution was the consequence of a tactical reshuffle effected by the sending off of Steve Cook.
The night got worse for The Cherries as they lost 1-0 and now find themselves in very real danger of being relegated. Wilson has played 22 times for Bournemouth this season and has scored 6 goals.
Herbie Kane (Hull City)
It was a bad day at the office for Herbie Kane as the midfielder played the full 90 minutes in the Tigers' 1-0 loss to Derby County.
The defeat leaves Hull 6 points off a playoff berth.
Kamil Grabara (Huddersfield Town)
Grabara played the full 90 minutes as he kept a clean sheet in the 0-0 draw against Brentford. Huddersfield could have really done with a win and are looking at the prospect of back to back relegations if their form does not pick up soon.
Marko Grujic (Hertha Berlin)
Grujic played the full 90 minutes in a 4-0 mauling against Bayern Munich at home. Hertha Berlin were outplayed as the German champions ran riot at the Olympiastadion Berlin.
Grujic has impressed at his loan spell and is likely to be recalled in the summer. Hertha are currently 14th in the Bundesliga table, just 2 points away from the relegation playoffs.
More Liverpool News
Jurgen Klopp will not sell any first-team players this January
Liverpool enquire about 'the new Andrea Pirlo' Sandro Tonali
Liverpool to recall striker Taiwo Awoniyi from Mainz loan
Loris Karius (Besiktas)
Loris Karius also faced defeat as Besiktas were beaten 2-1 by League leaders Sivasspor in the Turkish Sper Lig. The defeat leaves Besiktas in 7th,10 points off their opponents at the top.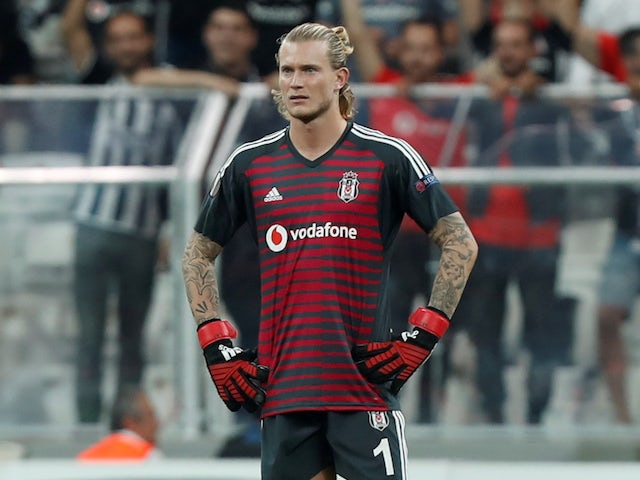 The goalkeeper looked certain to sign for Besiktas in the summer. With Besiktas unable to secure funds for his signature. It is likely that he will now return to Liverpool at the end of the season. (h/t Mirror)